Dinner Plain Campus
Expressions of Interest for the Dinner Plain School 2024 winter season are now open. 
Please complete your EOI here: https://docs.google.com/forms/d/e/1FAIpQLSc-SkyZHzyypDcTZqUS5RgDQObti2YfoSYYzC6mHUyGmOA3ww/viewform    
EOI will close on 23rd February 2024.
If you have any queries, please email us at bright.p12@education.vic.gov.au.
Bright P-12 College's Dinner Plain Campus is a small government campus of the college which operates in Dinner Plain near Mt Hotham in the Victorian snowfields during the ski season only; Queen's birthday weekend to the end of the Victorian school term three.  
Contacts:
Bright P-12 College
Website www.brightp12.vic.edu.au
Email bright.p12@education.vic.gov.au
Phone: 03 5755 1166
PO Box 30, Bright, Victoria 3741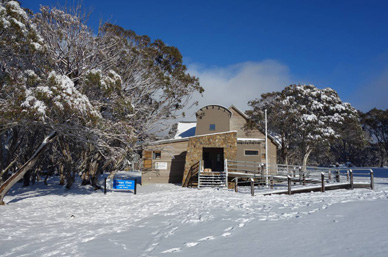 Dinner Plain Campus is a multi-age open plan primary school situated in the Dinner Plain Village. Currently students are divided between two shifts each day, AM shift and PM shift. In term 2, we have one shift that runs from 9am until 3.30pm.  In term 3, we have 2 shifts, the morning shift runs from 8am until 12.30pm and the PM shift runs from 12.30pm to 5pm. Shift allocations are determined based on the best educational outcomes for all of our students.  Students are expected to attend school every day and fulfil all curriculum outcomes.  As part of the curriculum, we run cross country ski lessons on Thursdays for 2 ½ hours, either in the morning or the afternoon, depending upon your child's shift. Students are required to supply their own cross country ski equipment. The teachers plan co-operatively, using the Victorian Curriculum as a guideline in English, Mathematics, Interpersonal Development and Information and Communication Technologies. We also work on a theme each year to give the curriculum some specific focus. Student reading levels are assessed and they work on ability levels rather than year levels.
We have a good range of IT resources and internet connection. Our school is very well resourced, which is something we add to with fundraising.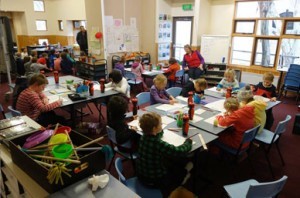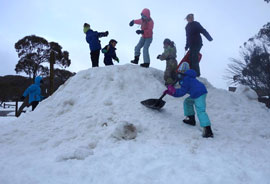 Community:
We are a part of the Mt Hotham and Dinner Plain Community and invite them to join us whenever we can. We run various fundraisers each year such as a silent auction, selling chocolates and other smaller events. Parents are always welcome and encouraged to be part of our school, listening to reading and helping with varied class activities is always a great help. A weekly newsletter with lots of information and updates is distributed to families via email each week.
Transfer of Enrollment:
For detailed information on the Transfer of Enrollment to Bright P-12 College - Dinner Plain Campus please click HERE.
For further information regarding enrolment into Dinner Plain Campus, please email bright.p12@education.vic.gov.au